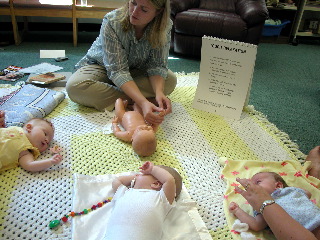 Infant massage
Baby massage is another way to say "I love you" to our children. Connecting and bonding with them from the first days and years of life strengthens family bonds. It serves as a vehicle for improved communication, both verbal and non-verbal. These techniques grow with the child and teach them how to "let go" of their stress.
The positive effects of infant massage have been well researched. Babies who were massaged showed improved sleeping patterns, diminished anxious behavior and significantly reduced stress indicators.
Premature babies who were regularly massaged gained weight faster, performed better on developmental tasks, acquired mental and motor skills earlier, and were more relaxed.
Children with special and high needs and their parents can benefit greatly from skilled touched. Giving a focused massage allows parents to learn more about their babies unique communication signals. Caregivers feel more confident and empowered to meet the unique demands of their children.
Over time, receiving massage can help a child create a more positive body image and enhance emotional security. It can help teach them the importance of selfcare and preventative health at an early age. Children who are touched have a keener sense of empathy. We owe it to future generations to start a valued tradition of peace through touch. Starting in the prenatal period, a calm, supportive, nurturing environment with an educated and skillful massage therapist will have long reaching effects into the lives of families and women that can create a more peaceful and loving world.
Lisa Gallauresi, LMT is an international association of infant massage certified instructor and a certified newborn/preemie instructor. She has been teaching parents and massaging babies in her private massage practice for fourteen years.
Lisa is available for private instruction or group classes. Caregivers, siblings and parents are encouraged to participate. Infant massage is a wonderful add on to your mom and baby postpartum massage.